What it's really like going on a Europe summer holiday during coronavirus
Waiting in queue to board a ferry at Santorini's port in Greece, dust pillows from nearby construction, refrigerated cargo trucks belch to a stop while gargantuan ferries the size of space craft disgorge visitors from Athens.
The ferry door lowers like a whales' yawning mouth and streams of people scuttle under the baking sun towards taxi touts. Summer in Europe is back – but looking a little different.
It's hard to believe while Melbourne locks down amidst mounting casualties and Queensland wavers with border closures, the mass migration that's summer tourism in southern Europe is on the upswing. And the crescendo has been exponential. On Folegandros, a 40-minute ferry ride from hot spot Santorini, the tiny island is filling.
See more: Creepy travel mask breaking the internet
See more: Thing that shocked me flying to Queensland
"Usually you book nine months in advance to come here," says Maria, one of two island taxi drivers. "But since announcing our opening July 1, we've gone from zero bookings to places being sold out. It's been quick." While the picturesque squares in the village chora are beginning to buzz, she adds, "It's never usually this calm, the tourists who make it here this year are winning."
The airport
Come Fly With Me
The invitation to fly is enough to make many shudder. But those who've won the lottery of travelling in Europe during a calmer peak season still have to get there and the pioneers of 2020 travel are airports.
Frankfurt Airport is Europe's fourth busiest airport, although the last week of July saw 307, 000 passengers, down 80 per cent on 2019. This year, flyers find 10,000 distance stickers, 80 sanitiser dispensers and multilingual distancing announcements every five minutes, plus Hygiene Officers as part of the #SafeAtFRA program.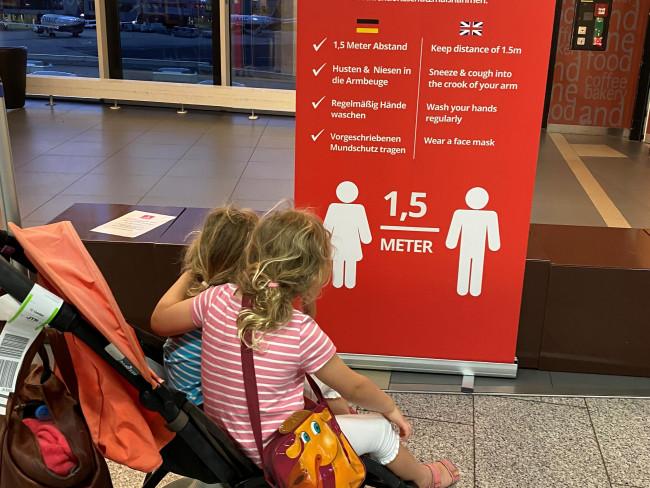 In high-vis coats they stroll the airport in pairs, ensuring masks are worn correctly (compulsory in the airport, no exposed noses thanks) and people respect space markers. Are they busy? "More than you'd think" says one. "But that's what we're here for", smiles the other (I think, hard to know behind the mask).
If there's one legacy, it's newly minted Carousel Sanity. Standing on markers, people wait for their bags to roll past instead of creating a mosh pit – it only took a pandemic.
The hotels are big on deep cleaning
Sealed with a Kiss
Meanwhile, the Hilton Frankfurt Airport a small hop from check in, is sold out. Doors sealed with stickers signifies a room has remained unoccupied since deep cleaning, the pens at check in are separated between sanitised and used, and there's an awkward interaction with room service (dining areas are closed and the 'mini bar' is at reception) as we negotiate the trolley entry maintaining 1.5 metres distance. As long as my four-year-old refrains from licking elevator buttons, I'm happy.
What to expect on the plane?
Up, Up and Away
For when Australian borders do open, this is what European air travel looks like. On Lufthansa flights, pillows and blankets have disappeared in economy class, expect a water bottle after 50 mins and a packaged snack after 150 mins. So BYO.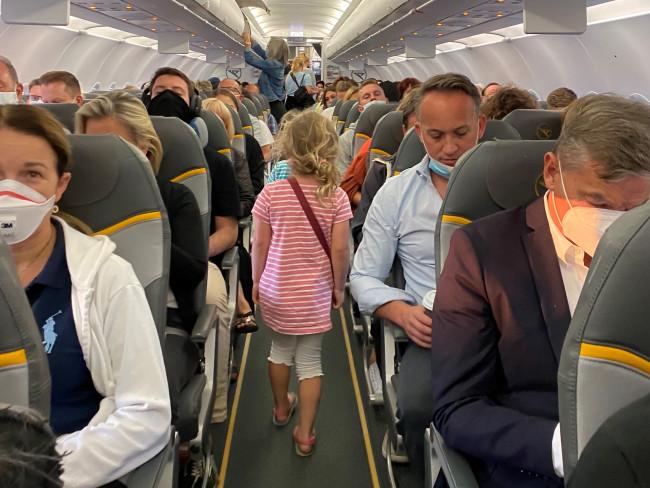 On our flight to Greece from Frankfurt, all is well. The airport's nearly empty, security is swift and pre check-in we take a voluntary airport CENTOGENE coronavirus test (processing time 3 hours, 139 Euros/$A230) ensuring we're not virus spreaders. We're armed with sanitiser and wearing obligatory masks (excluding children under six years).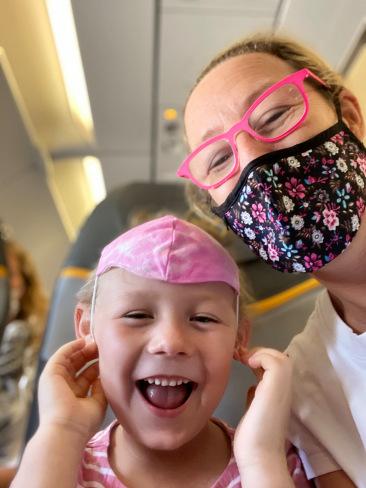 Boarding is contactless and then… we arrive via a tarmac bus to the plane. Do you want to fly a full-service airline with air bridge? Ahhh… that's a hard yes, instead of touching poles, standing, carry-on cases bumping legs. It's a #covidfail. Despite being 6am, it's a full flight, but at least everyone's masked.
The Santorini ferries are touch and go
Big Boaty McBoatface
If there's one flash point, it's the Greek ferries. The Greek islands are rigid with sanitary measures – masks are required in enclosed areas and that includes taxis (they carry spares), airports and ferries.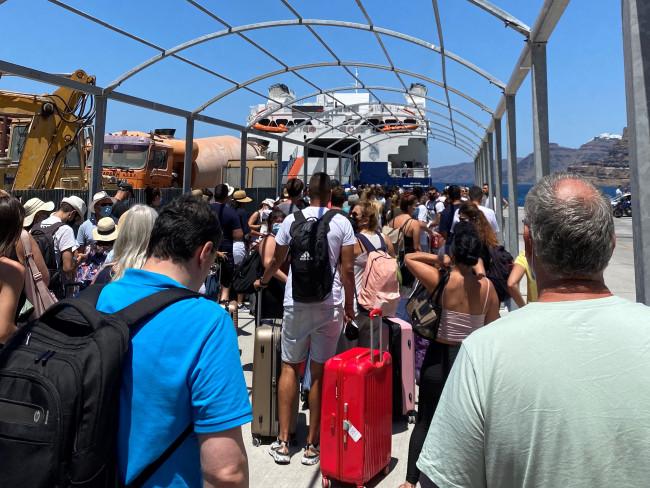 Ferry boarding has always been a calamitous hot pot of humanity and under the midday sun sweat dribbles, moist bag handles stand propped up as the mix of French, Italian and Greek accents confirms a festering cauldron of pan European nationalities. A word of advice? Board last.
But the luxury hotel is all over coronavirus prevention
Within the COVID-19 free bubble of Santorini there exists mini bubbles. In Oia five-star properties teeter on the caldera cliff and spill down towards the ocean like gravity-defying sea-spray droplets. Zoom in closely and you'll spot a maze of ant like activity as white clad servers clamber cliff-side stairs carrying cloche covered trays glinting in the light.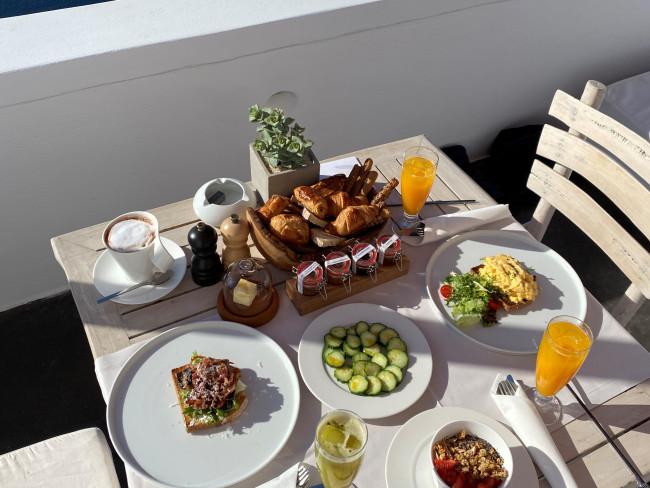 This is the case at Andronis Luxury Suites, the poster child for the ultimate COVID-19 free environment. Most suites feature a private plunge pool or jacuzzi, pre-selected breakfast materialises on the balcony every morning and the entire hotel is mainly outdoor. No indoor areas, highly individualised service and an invisible army of cleaning staff keep areas spotless. The boutique size also means pool access at all times, unlike other properties that limit guest access according to pool area size.
View this post on Instagram

Welcome April.🌺🇬🇷 (📷: @professionaltraveler ) #AndronisLuxurySuites #Oia #Santorini #LuxuryTravel #LuxuryExperiences #AndronisExclusive #AndronisExperience #SantoriniHotels #OurHouseIsYourHouse #LifeWellTravelled #ThePreferredLife ⠀
This is what you get at a world premier hotel, the question is if safe international travel will be affordable for all – that is, the way you'd like to be, COVID-19 free.
See more:
Warning as travellers flood into Queensland
$12 mask every traveller should have
Budget or blowout: Top Mykonos stays
Want regular travel updates? Follow us on Facebook
More in europe
The secret to crossing the road in Rome

9 Croatian beaches off the beaten track

The one seat to avoid in a taxi in Turkey

No.1 thing you're getting wrong about Irel…
tinyurlis.gdv.gdv.htclck.ruulvis.netshrtco.de